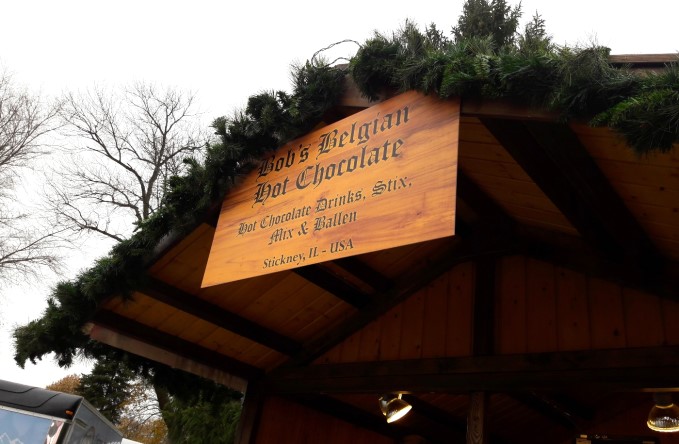 Bob's Belgian Hot Chocolate!
Bob has six certificates from, "The Chocolate Academy" and he is bringing his OUT-OF-THIS-WORLD, Belgian Hot Chocolate to the Christkindlmarket Park at Wrigley, Naperville, and a Pop-Up Booth at Daley Plaza, in Chicago!
Made onsite, with Homemade Whipped Cream, Bob combines 100% Dark and Milk, imported Belgian Chocolate, with other fine ingredients, to create a Cup of his AMAZING Hot Chocolate! Once you try it… there is no going back! You will want more and more! Bob has also created some Deee-licious products for you to take home and enjoy! STIX, MIX, and BALLEN! They make FANTASTIC Christmas Gifts! Indulge in a Cup of Luxurious Hot Chocolate! Bob's Belgian Hot Chocolate! THE BEST OF THE BEST!
Have a cup of our luxurious Hot Chocolate while you shop at Christkindlmarket!
Stop off at our booth at Christkindlmarket and enjoy a take-out 12-ounce cup of Bob's Belgian Hot Chocolate, made onside, from scratch from 100% Belgian Chocolate and other fine ingredients! We top it off with homemade whipped cream, also made onsite! Or how about Bob's Belgian Hot Chocolate in a Souvenir Christkindlmarket Mug!
Come See Us at Christkindlmarket!
Chicago Daley Plaza
Friday, November 17th – 11 am – 9 pm
Saturday, November, 18th – 11 am – 9 pm
Sunday, November 19th – 11 am – 8 pm
Monday, November 20th – 11 am – 8 pm
Tuesday, November 21st – 11 am – 8 pm
Monday, November 27th – 11 am – 8 pm
Tuesday, November 28th – 11 am – 8 pm
Park at Wrigley
Friday, November 24th to Sunday, December 31st
Sunday, Monday, Tuesday, Wednesday, Thursday –
11 am – 8 pm
Friday, Saturday- 11am – 9 pm
Special Holiday Hours
Sunday, December 24th – 11 am – 4 pm
Monday, December 25th – CLOSED
Sunday, December 31st – 11am – 4pm
Naperville at Naper Settlement
Friday, November 24th to Sunday, December 24th
Thursday – 11 am – 7 pm
Friday, Saturday – 11 am – 9 pm
Sunday – 11 am – 6 pm
Monday, December 18th to Saturday, December 23rd – 11 am – 8 pm
Sunday, December 24th – 11am – 4 pm